Swansea Mettoys tyre factory fire cost to top £1.5m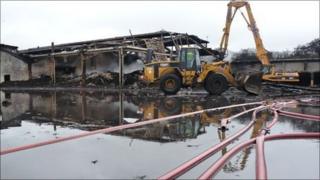 The cost of tackling a fire which burned for more than three weeks at a factory in Swansea will top £1.5m.
Swansea council says it will have to pay much of the bill after the Mettoys factory blaze, where about 5,000 tonnes of shredded tyres were stored.
The factory in Fforestfach was largely demolished so fire crews could remove the burning waste before immersing it in large water-filled tanks.
Police and the fire service are jointly investigating the cause of the fire.
Councillors will discuss the cost at a cabinet meeting on Thursday.
"The Fforestfach tyre fire which started on 16 June was significant and the first of its kind in Wales," a Swansea council spokesperson said.
"It required a major intervention by the council and other statutory bodies.
"While occurring on private land and given the personal and environmental risks, the council had no choice but to fund the required expenditure in the first instance.
"The final cost is now being assessed but it will exceed £1.5m.
"While steps will be taken to recover this cost from the occupier, it's likely there will be a significant cost to the council.
"Financial assistance from the Welsh Government is available under its emergency financial assistance scheme.
"If agreed, there will be a reduced funding requirement but a residual cost in excess of about £1m is likely."