Fears over closure of Pemberton's chocolate factory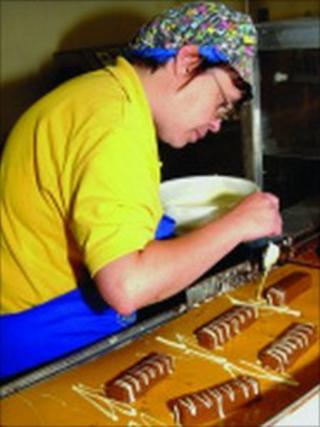 There are fears a Carmarthenshire chocolate factory could close, unless a buyer is found by the end of September.
Pemberton's Chocolate Farm in Llanboidy opened 20 years ago and employs 12, but is up for sale for £1.2m.
Elizabeth Jones, 58, is selling it as a going concern but says it could be sold for equestrian use.
She started the business by making chocolates with her late husband Alan at a kitchen table.
It now has a turnover approaching £500,000 per year and is an award-winning attraction bringing in up to 30,000 visitors a year, Mrs Jones said.
She and her two daughters carried on the firm after Mr Jones died in 2008.
New injection of ideas
However, with her youngest daughter starting a teaching job next week, Mrs Jones said the time had come to to retire.
She said: "It's such a shame. I can't do it on my own. I can't do it without my husband. It's something we created together and it literally has his footprints all over it. That's the only reason.
"I would love to carry one, no two ways about it.
"I feel that if I'm going to make the break, it has to be now, especially with the two girls coming out of it as well.
"It needs a new injection of ideas, and somebody else's footprints."
She said one of the highlights of the business was making 180 chocolate Oscars for the Hollywood film ceremony 10 years ago.
Asked how difficult it was to buy or sell businesses in the current economic climate, Mike Theodoulou, chair of the Mid and West Wales Chamber [of commerce], said: "For a good business, it's always a good time to sell - provided you get the price you want.
"if you compare it to the property market, wise money is going into property right now - it's a good time, buy low, sell high."
If the right investor came along, Mr Theodoulou said it could be a good time to sell, but added: "It depends entirely on the valuation of the business."