Candlelit service marks Llanelli church closure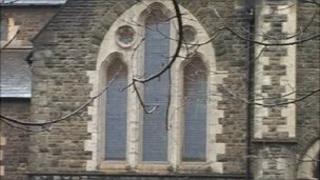 The congregation at a 137-year-old church in Llanelli that closed suddenly in March due to electric problems has returned for a final service.
All Saints Church on Goring Road was shut due to dangerous wiring.
Two generators have been brought in to provide light along with dozens of candles for the service on Sunday.
Church warden Dudley Thomas said it was a very sad day for everyone who had worshipped there.
Mr Thomas said some former parishioners had travelled back to the town to take part in the service.
The Grade II listed church which opened in 1874 has previously hosted an edition of the BBC's Songs of Praise programme.
Mr Thomas said the church had been due to close in three to four years time but that was brought forward due to the problems with the electricity.
He said no decision had yet been made about the future use of the building.