Jamie Phillips Llanelli North Dock teen death tributes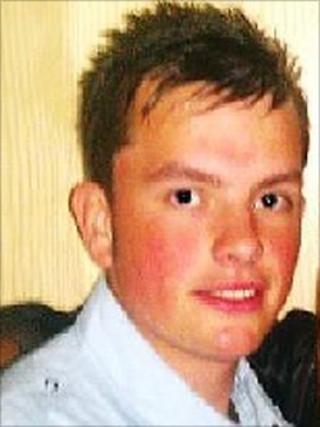 Friends of a Llanelli teenager whose body was found in Llanelli's North Dock following a major search have spoken of their shock at his death.
A major search operation was launched on Saturday morning for the 17-year-old, named locally as Jamie Phillips.
More than 60 young people gathered to leave flowers at the dockside on Sunday and more than 2,000 messages have been left on a Facebook tribute page.
Best friend Connor Dawson said: "He was the best man ever, I miss him to bits."
The body of the teenager, from the Dafen area of the town, was found after an all-out search involving coastguard rescue teams, police divers, fire service boats and the Burry Port inshore lifeboat.
The revamped dock, created alongside the millennium coastal path as part of a multi-million pounds regeneration of the area's industrial landscape, has been regarded as a safe place for canoeists and other boating beginners to train.
'Popular teenager'
Burry Port inshore lifeboat operations manager Spencer Davies said they initially thought that someone was missing at sea but then learned the search was in the enclosed North Dock.
He said: "It is an old commercial dock in Llanelli which has now been sealed off.
"It appears to be a very safe environment for people to sail and canoe, etc. There's quite a lot of activities going on there, especially with the youth.
"We decided to take our vessel by road to assist with the search."
It is not yet clear why the teenager was in the water possibly as early as 08:00 BST. The alarm was raised after he was seen to disappear in the water.
His body was recovered by police divers some five hours later.
Friends described Jamie as a popular teenager with many close friends in the town. They said he had started in college and was a keen amateur soccer player.
Connor Dawson told BBC Radio Wales: "He was a caring, friendly guy. He would do anything for anyone. He was so funny. He made us all laugh every single day. He was so popular. Everybody knows him."
Jessica Anderson and Nia Parry said they would remember him as always happy and always smiling.
They said: "He was just a really funny person and good to be around, as well."