Swansea Coastguard closure: Silent protest for minister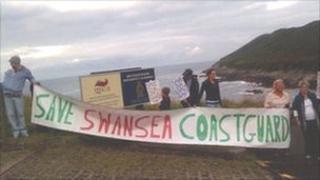 Campaigners fighting to save Swansea's coastguard station from closure have greeted a visit by the shipping minister with a silent protest.
Mike Penning visited the station on Tuesday following a UK government decision to close it by 2015.
Mike Dubens, of Save Swansea Coastguard, said about 100 people took part in the protest in inclement weather.
The Department of Transport described Mr Penning's visit as private.
Swansea, with a staff of 28, is one of eight coastguard stations to undergo phased closures.
Campaigners claim its closure will risk lives not just off the Swansea and Gower coastlines but across the whole Bristol Channel.
Last month about 200 people, including sailors, fishermen, surfers and beachgoers, took part in a "floating protest" against the government's plans, near the station in Mumbles.
Speaking before the visit Mr Dubens said: "Rather than ranting and raving at him, which is probably what he gets wherever he goes, we thought it might be a little more effective.
"We'll be handing [Mr Penning] a dossier with comments on from people across the UK who have joined our online petition.
"Altogether online and on paper we have around 75,000 people so far who have contributed."
Transport Secretary Philip Hammond has said Swansea would be closed due to the higher level of government employment in the city.
The coastguard agency has insisted the changes would mean more officers would be available round the clock. A consultation on the proposals closes on 6 October.