Swansea Coastguard closure 'not certain' say protesters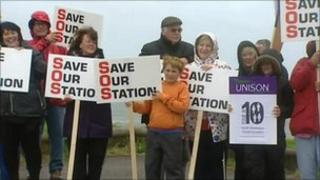 The closure of Swansea Coastguard station is "not a done deal", claim campaigners after a visit there on Tuesday by the shipping minister.
Save Swansea Coastguard's Mike Dubens said 100 people took part in a silent protest to greet Mike Penning MP.
Mr Penning told protesters the government was listening to all arguments, Mr Dubens said.
In a statement the minister said he had had a "positive" meeting that would feed into the consultation process.
Assembly members Byron Davies and Bethan Jenkins were among those who took part in the protest that greeted Mr Penning's arrival at the station by car.
"Mr Penning was driven up the drive but he did in all fairness walk back down to address the protesters there," said Mr Dubens.
"He told them it was not a done deal. He said the consultation period will stay open until 6 October and they are listening."
Mr Dubens added: "It seems to be jobs that's the government's main stance. Jobs, not safety which is madness."
In a statement issued after his visit on Tuesday Mr Penning said it had been arranged as part of the ongoing consultation on the reform of the coastguards.
"I had a positive meeting with the team today and they provided some very interesting insights and perspectives that will feed into the consultation process," he said.
"As the decision between Swansea and Milford Haven is so close, we also need to look at the economic footprint that such closures might have on the local community and with the sizeable DVLA presence in Swansea, it is likely that the closure of the Milford Haven site would have a greater impact on the local economy."
Swansea, with a staff of 28, is one of eight coastguard stations to undergo phased closures.
Campaigners claim its closure will risk lives not just off the Swansea and Gower coastlines but across the whole Bristol Channel.
Last month about 200 people, including sailors, fishermen, surfers and beachgoers, took part in a "floating protest" against the government's plans, near the station in Mumbles.