Crymych sheep market moves to new site at Parc Gwynfryn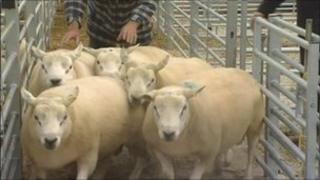 Farmers in north Pembrokeshire have welcomed the opening of a new £750,000 livestock market.
The fortnightly sheep mart, which has taken place in Crymych for more than a century, has been moved to Parc Gwynfryn, 400m north of the village on the main A478 road.
It was officially opened by deputy rural affairs minister Alun Davies on Wednesday.
The Crymych Market Hall Company said it heralded a "new era" for the market.
The old site was sold to Pembrokeshire county council for £600,000.
The council has approved plans for 40 care apartments, a day centre and health centre at the site.
Collection pens
Housing auction and collection pens, a covered area, an office and stores, the new mart is double the size of the previous market.
"It was becoming apparent that we would have to move out of the village from the old mart site," said Brian Jones, secretary of the Market Hall Company.
"The brown water washing down the lane and into the square on some market days was a sight to see."
Mr Jones said the new development will continue to be operated by Cardigan and Whitland auctioneers JJ Morris.
Although the official opening was held on Wednesday, the first auctions in the new mart were held at the end of August.
The Market Hall Company was founded by local farmers and businessmen in 1908, with the aim of building a hall large enough for "markets, public meetings, amusements and gatherings of all descriptions".
A total of 827 shares were sold at £1 each. The land was acquired in 1914 and the hall, costing £827, was officially opened in 1922.
Later, the company acquired a field of nearly three acres and developed a livestock market with a public open space alongside that became known as the fair field.