Swansea Coastguard: Tony Bullimore joins protest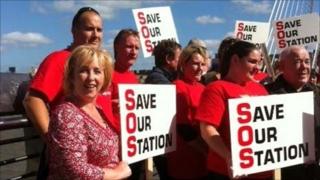 Veteran yachtsman Tony Bullimore is backing a campaign against the closure of a south Wales coastguard station.
Mr Bullimore, 71, joined about a dozen campaigners on the River Thames at Westminster protesting against plans to shut Swansea Coastguard station.
In 1997 the Bristol-based sailor memorably survived for five days in a capsized boat on the Southern Ocean before being rescued.
"It's crucial that everyone gets behind this very important cause," he said.
Swansea, with a staff of 28, is one of eight coastguard stations to undergo phased closures.
Campaigners claim its closure, scheduled for 2015, will risk lives not just off the Swansea and Gower coastlines but across the whole Bristol Channel.
They hired two rigid-inflatable boats for their protest on the Thames on Monday.
It took place from 14:30 BST outside the Houses of Parliament, and campaigners delivered a 100,000-signature petition to MPs.
Mr Bullimore was feared drowned after disappearing during the Vendee Globe single-handed non-stop round-the-world race 14 years ago.
He was rescued after the yacht was spotted by an Australian navy ship.
He told press at the time that he had survived on "a little chocolate, water and sheer determination" crouched in the upturned hull of his yacht.
'Worrying'
Explaining his decision to support the Swansea coastguard campaign, Mr Bullimore said he had sailed in the area covered by the Mumbles-based station for more than 30 years.
"Although it is a beautiful part of the British coastline, it is a dangerous one at times," he said.
"Potentially losing such a vital safety feature as the Swansea Maritime Rescue Co-ordination Centre is truly worrying as it has helped to save so many lives in the past."
Save Swansea Coastguard Campaign coordinator Mike Dubens said Mr Bullimore's support would bolster the campaign.
"If Swansea Coastguard were to close, the effects would be seen for miles as the station covers the entire Bristol Channel."
A number of local politicians support the campaign to save the station in Swansea.
Gower MP Martin Caton, whose constituency includes the Swansea station, believes that if one Welsh coastguard centre had to close it should have been Milford Haven, as originally proposed.
He acknowledges it will be difficult to change ministers' minds before the consultation period ends next month, but hopes the petition will maintain political pressure.
Last month about 200 people, including sailors, fishermen, surfers and beachgoers, took part in a "floating protest" against the government's plans, near the station in Mumbles.
And last week around 100 greeted a visit to the station by UK Shipping Minister Mike Penning with a silent protest.
After the visit Mr Penning said he had had a positive meeting with members of Swansea's coastguard team and their insights and perspectives would be fed into a consultation process which closes on 6 October.
Mr Penning said the decision between Swansea and Milford Haven was close and that there was a need to look at the economic footprint that the closure might have on each local community.