49 neighbours from Coronation Avenue take joint holiday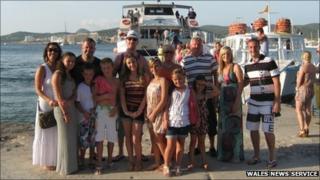 A total of 49 community-spirited neighbours and their children in one west Wales street have just returned from a holiday together.
The residents of Coronation Avenue in Haverfordwest decided on a break in Ibiza after the idea came up at a barbecue.
Initially, half a dozen planned to go together but word quickly spread.
And organiser Paul John said it went so well they are planning another trip.
The former landlord said everyone pitched in to help plan the trip to San Antonio.
The group spans three generations ranging from three months to 60 years old.
One member, Samantha Owen, told BBC Radio Wales that the neighbours have been friends for years, as many have grown up and stayed in the area.
She described the holiday as a big success, saying the parents among the group looked out for each other.
"It benefited me as all my friends were there, my family as well," she said.
"If I wanted to pop off and go for a walk with my husband, my friends would look after the children.
"And if my friends wanted to go off we'd look after their children so everyone was at ease all of the time and helped each other."