Appeal over missing Haverfordwest girl Seren Bernard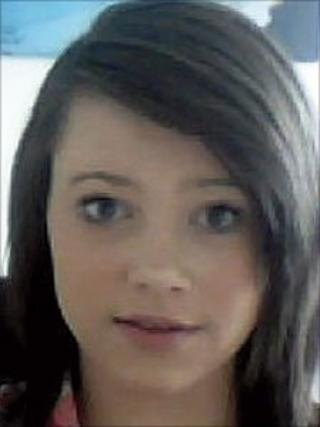 The grandmother of a 14-year-old girl who has been missing in Pembrokeshire for eight days has urged her to get in touch.
Yvonne Pollock said she desperately needed to know her granddaughter Seren Bernard was safe.
The teenager went missing from her home in Haverfordwest on 31 August and was last seen in the town on Saturday, 3 September.
Dyfed-Powys Police said they were very concerned for her welfare and safety.
Ms Pollock said she and her granddaughter had had a row on the morning Seren went missing and she had "grounded her".
She described her as an outgoing, sociable girl with many friends at Tasker Milward school in Haverfordwest.
She said: "I don't know where I am half the time because I love her so much.
"I just need for someone to tell me she is okay.
"Please Seren contact someone to say you are all right. Please, please, please contact us because we are going mental here."
Posters have been put up in towns across Pembrokeshire and police say they are now treating the case as a "critical incident".
Ch Insp Andrew John said the last confirmed sighting of Seren was near the Wilkinson store in Haverfordwest on Saturday.
"Unfortunately since that time we've not seen or heard from Seren and obviously we are now very concerned about her welfare and her safety," he said.
"We are anxious to speak to anyone who has had any contact with Seren since last Saturday.
"She is 14. Clearly she is potentially vulnerable. We know she has got very little money and clearly we are very concerned."
Anyone with information is asked to contact police on 101.