Food waste plan for old Abernant Colliery at Pontardawe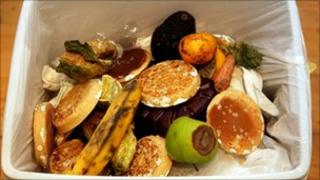 Plans have been drawn up for a plant in the Swansea Valley capable of turning food waste from over 350,000 homes into electricity and fertiliser.
A formal planning application is expected in October for the anaerobic digestion facility at Pwllfawatkin, north of Pontardawe.
It would run on food waste collected in Bridgend, Carmarthenshire, Neath Port Talbot, Pembrokeshire and Swansea.
The company behind it, Waste Recycling Group Ltd, plans a public exhibition.
It has been talks with Neath Port Talbot Council, which will assess the planning bid at the former Abernant Colliery, for several months.
Mike Bullard, project director from Waste Recycling Group, said the plant would use micro-organisms to break down biodegradable food waste in order to produce fertiliser and biogas which will be used to generate electricity.
The 2.3 MW facility would have the potential to generate enough electricity to meet the demands of approximately 5,000 homes.
It would have the capacity to process around 52,000 tonnes of food waste each year.
Most of that would come from weekly food waste collections by the five county councils.
Mr Bullard said: "The proposed facility has the potential to contribute significantly towards meeting the challenges and targets set out by the Welsh Government in relation to climate change, energy security, waste reduction and resource management.
"It would generate electricity and heat from the processing of food waste from households, as well as food waste from businesses, and has the potential to meet the energy needs of approximately 5,000 homes.
"A nutrient rich liquid fertiliser will also be produced, which will then be available for use by farmers to help cultivate agricultural land."
He said the company would hold a public exhibition at a date yet to be fixed so people living nearby could find out more before the planning application was submitted next month.
Mike Roberts, head of street care services at Neath Port Talbot, said the council was working with its four counterparts to secure a regional anaerobic digestion facility to treat household food waste from south west Wales.
"The procurement process is ongoing and a number of bids and associated site locations are currently under consideration. The final short list is yet to be agreed," he said.
A much smaller plant capable of dealing with 15,000 tonnes of food waste has been given the go ahead near Clynnog in Gwynedd.
Flintshire, Conwy and Denbighshire councils aim to open one at a former abattoir in St Asaph by 2013.