Swansea's St Helen's ground could be made into housing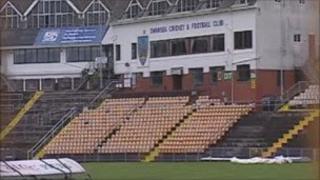 A famous sporting landmark in Swansea where cricketer Gary Sobers made history by hitting six sixes in one over could be made into housing.
St Helen's is one of more than 500 potential sites earmarked for development in the city.
Residential and leisure areas, parking and open space could be built on the 14-acre (5.8 ha) ground.
Potential sites are being identified as part of a process to develop a local development plan.
Swansea council, which owns the ground, said housing, retail space, public squares and schools were among the ideas put forward for pockets of land in the city.
Other areas earmarked for development include Swansea City football club's former Vetch Field ground, which has been demolished.
Sensible
The public are being encouraged to have their say about the plans, and have until 30 September to lodge their comments with the council.
The next stage will be to look at each candidate site and decide if the plans are feasible and sensible, says the council.
Work developing sites in the city will not start until 2015, but the local authority said plans were at a early stage.
Phil Holmes, Swansea's head of planning and economic regeneration, said: "This is the first step in the production of our local development plan.
"There has been a good response from the public with plenty of suggestions on how Swansea is developed in the future.
"We want people to come forward with their views on candidate sites."
Swansea Rugby Club also calls St Helen's home and played its first match there in 1874.
Six sixes
It has been the scene of several famous victories for the club, including an 11-3 defeat of New Zealand in 1935, followed in 1992 by a 21-6 victory over the then world champions Australia.
It was also an international rugby venue between 1882 and 1954.
In 2005, the Ospreys moved to play at the Liberty Stadium leaving St Helen's to host the Swansea semi-professional rugby side.
In 1968, Gary Sobers, now Sir Gary, made history when he hit six sixes in one over at St Helen's.
The West Indian all-rounder was captaining Nottinghamshire in a game against Glamorgan, and facing the bowling of Malcolm Nash.
The ball he hit for his record sixth six was sold for £26,400 at auction in 2006.