Wembley murder: No further action against six men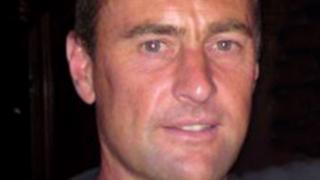 No further action is to be taken against six men questioned by police after the murder of a Wales football fan at Wembley.
Michael Dye, 44, from Cardiff, died after being taken to hospital with head injuries and suffering cardiac arrest before Tuesday's Euro 2012 match.
Scotland Yard said the men have been released from police bail.
Police repeated an appeal for witnesses to the murder and were keeping an "open mind" about the motive for the assault.
The Metropolitan Police said they were still appealing for witnesses.
Six men were arrested on Tuesday night following the incident before the match in the concourse.
Four were from north Wales, and two were born in south east Wales, but live in England, police said.
The men aged from their 20s to 40s and all thought to be Wales fans, had been bailed until November.
But they were released from that bail on Friday.
Scotland Yard said there was was nothing to suggest at this time that incident was between only Welsh football supporters.
Acting Det Ch Insp Sheila Stewar of the Homicide and Serious Crime Command said: "My sincerest sympathy goes to Mr Dye's family at this exceptionally hard time.
"Within a very short period they have lost a loved one at a peaceful football match attended in the majority by well mannered supporters.
"This incident has emerged from a moment of brutal violence with catastrophic consequences leaving behind a family without a son, husband and father."
She said it was imperative detectives had the public's help to identify those involved in the assault.
Cardiff City fan Mr Dye, from Ely in the city, died in hospital shortly before 21:00 BST on Tuesday.
Tributes have continued to be laid at Cardiff City's stadium.
Mr Dye's family has visited the stadium to attach photographs to the Ninian Park Gate of him with his children - a daughter and twin sons.
Cardiff City are currently finalising arrangements for a tribute to Mr Dye at Saturday's home match with Doncaster Rovers.