Steelman Kevin Downey 'fell into liquid waste' at Corus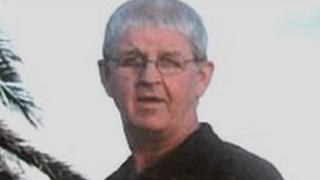 A steel worker died after falling into hot liquid waste at the Corus plant in Port Talbot, an inquest has heard.
Kevin Downey, 49, was the most senior staff member on duty when he fell from a veranda in a blast furnace in 2006.
In 2001 colleagues had called him a hero when he helped shut a furnace after an explosion in which three men died.
An inquest is now being held in Swansea into his death in 2006 in a separate incident. The hearing continues.
The jury at the inquest heard that following his fall in the early hours of 25 April, 2006, Mr Downey told colleagues he had been trying to move away from hot steam. He died later in hospital.
The liquid metal slag often reached temperatures of 1,400 degrees centigrade, the inquest was told.
Mr Downey, who had worked at the plant since he left school, was said to have been conscious when workmates pulled him from the piece of equipment known as a slag runner.
His colleagues covered him with cold water and called emergency services but he died at Morriston Hospital in Swansea the same night.
Following the explosion at Corus in 2001, Mr Downey was called a hero by colleagues and the local press for his actions following an explosion at the plant which killed three men.
He was said to have been pivotal in shutting the furnace down after the explosion and making the area safe.
Stephen Galsworthy, 25, Andrew Hutin, 20, and Len Radford, 53, died following the incident.