Rescued Newgale beach Manx shearwaters to be released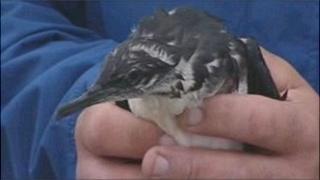 Hundreds of seabirds rescued from a Pembrokeshire beach are all expected to return to the wild by the weekend.
The fledgling Manx shearwaters were trying to migrate to Argentina last week when they were blown off course in a storm, ending up on Newgale beach.
About 380 birds were taken to West Hatch wildlife centre in Taunton, Somerset, and some have already been released.
But gale force winds hampered the process on Sunday and Monday.
Peter Venn, the manager of West Hatch wildlife centre, said some birds were released last Friday and Saturday, and that has resumed after the UK was battered by more high winds.
The Manx shearwaters are being returned to the wild at night in north Devon, a National Trust-owned headland known locally as Baggy Point.
Mr Venn said: "The birds are being released at night because that's when they leave their island to migrate.
"We're happy with the way things have gone so far."
The rescued birds had sand and grit in their feathers and had to be cleaned.
"We also place them in a pool for 12 hours to assess their fitness and if they pass that then they're ready to return to the wild," he added.
He said around 50 birds a night were being released.
Nearly 500 Manx shearwaters were rescued from Newgale on Tuesday, 6 September.
The RSPCA, which said it was the biggest bird rescue in the area since the Sea Empress oil spill in 1996, released about 60 from a ferry in the Irish Sea last Friday.
About 100 of the birds were put down either due to injury or because it was considered they would not survive.
There are an estimated 170,000 breeding pairs of the birds on Skomer and Skokholm islands off Pembrokeshire.