Inquest into Harry Patterson's driveway death opens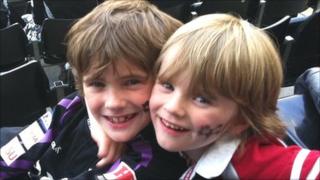 An inquest has opened into the death of a five-year-old boy outside his home in the Swansea Valley.
Harry Patterson suffered head injuries in the incident involving the family car on his driveway, near Pontardawe, on Tuesday.
Speaking on Wednesday, Harry's father Christian described his son's death as an "absolute tragedy".
He was taken to hospital by air ambulance, where he later died. The inquest has been adjourned.
Christian Patterson fought back his tears as he paid tribute to his son on Wednesday.
The family are being supported by police. Details of exactly what happened are still uncertain.
Clutching a picture of Harry, Mr Patterson said at his home in Bryn Llywellyn: "Harry was a real individual in the truest sense of the word.
Witnesses
"I think he would have grown up to be anything he wanted to be.
"At the moment he wanted to be a chef and I'm sure he would have achieved that.
"He was a very happy child and when he did some school work recently he was asked to write down if there was anything that concerned him.
"He wrote down: 'Nothing'".
Anyone who was in the area and saw the boy before the incident is asked to contact the police on 101 or the charity Crimestoppers anonymously on 0800 555111.