Gwyn Hall in Neath on target for £9m re-fit after fire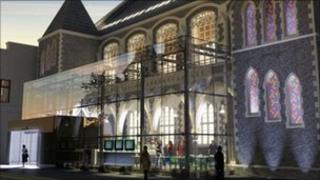 Work to restore an historic building destroyed by fire four years ago is set to be completed at the end of the year.
Neath's Gwyn Hall was undergoing a restoration to become an arts centre before flames ripped through the four-storey Victorian theatre.
But now the 124-year-old building is on target for completion of its second restoration project at a cost of around £9m.
The hall is expected to open to the public early next year.
"I think it is worth reminding the public that we were only a couple of weeks away from reopening the Gwyn Hall after a refurbishment programme a few years ago," said Neath Port Talbot council leader Ali Thomas.
"Of course, following the fire we have been negotiating with our insurers and working to secure additional funding.
Structural work
"All this has been achieved and now we are seeing the rebuild coming to fruition and I look forward to the opening of what will be a truly magnificent community facility in the near future."
The Gwyn Hall was built in Orchard Street in 1887 at a cost of £6,000 after Neath dignitary Howel Gwyn donated the land.
It had been a music venue until it closed in 2006 for a £4m refurbishment and was due to re-open two years later before the fire struck in which 70 firefighters battled to save the building.
The outside scaffolding for the latest work has now been removed following the completion of the major external structural work.
It will allow the steel frame to be put up on the front of the building, to house the entrance lobby, gallery and coffee shop.
Work is also progressing inside the multi-purpose arts venue which will include a theatre, cinema pod, studio, café-bistro and interval bar.