RSPCA rescues rare ducks from Port Talbot oil spill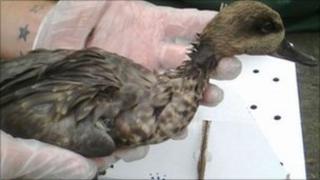 Around 250 rare pet ducks have been rescued from a farm near Port Talbot after being affected by a diesel spill.
About 12 of the birds have died but the RSPCA is hoping the rest can be saved and washed before returning to their owner Hefin Jones.
It is thought fuel leaked into their pond at Cwm Ynys Fawr Farm in Pontrhydyfen after thieves tried to steal diesel from a generator.
Mr Jones, 24, said the ducks had cost up to £400 a pair.
He had been collecting them since he was a young boy.
He said: "Most children get bikes and things liker that as presents but I always wanted birds.
"I get great satisfaction from breeding the different rare varieties. They are from all over the world but most are for conservation purposes.
"Most of them going extinct in the wild."
The rescued birds have been taken to the West Hatch RSPCA centre in Taunton to go through a special washing process.
Keith Hogben of the RSPCA said: "Some of the birds look quite clean but when you smell them it's horrendous.
"Diesel burns very quickly so it's really important we get them off to West Hatch to our wildlife hospital to start the washing process and then they can come back."