Pembrokeshire rejects taxi maximum fares increase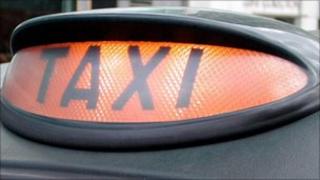 A plea by some taxi drivers in Pembrokeshire to raise maximum fares that would have made the county the dearest in Wales has been rejected.
Many drivers in the Tenby and Pembroke areas backed a rise, saying fares had not gone up for four years while fuel, insurance and other costs had.
But other drivers, less reliant on summer tourists, said any increase would put people off using cabs.
The council's licensing committee decided to freeze fares.
According to a survey, Pembrokeshire has the third highest fare rate for hackney carriages in Wales based on a daytime two-mile journey with a price of £5.40.
Monmouthshire is the highest in Wales at £5.70, while Blaenau Gwent is the lowest at £4.30.
Members of Pembrokeshire licensing committee considered three options.
'Very seasonal'
They decided to leave prices unchanged.
They could have raised them by the Retail Prices Index rate of inflation or adopted a system of tariffs suggested by a group of 44 drivers and owners who had called for a rise.
One of them, Tenby driver Gary Slack, said those working in and around the resort were in a unique position because they made most of their money during the summer season.
"It's very seasonal and we have six to eight weeks maximum to earn most of what we have to live on for the rest of the year," he said.
"The population of Tenby goes from 4,500 to 50,000 or 60,000. When they go we then don't have the regular business other towns do."
'Poor economic climate'
He said some drivers faced going out of business because the cost of fuel, insurance, wages and VAT had all risen but fares had been kept the same for the last four years.
"It is a maximum rate and drivers don't have to charge it," he added.
"It would not affect those against it because they would not need to put their prices up."
But Rhidian Havard of Fishguard Taxis said a rise would have be bad for the trade in the county.
"I don't want to see any price rise at all," he explained.
He said he did not charge the full tariff but others did and it confused the public because they paid different prices for the same journey.
"It puts people off. It is difficult to get customers in the poor economic climate as it is. Increasing fares will only drive away what few customers we have."