Six staff and two pupils at Ysgol y Glyn, Brynamman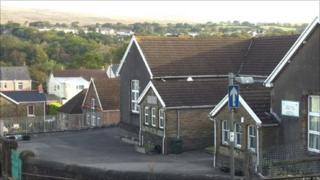 A school with six staff but only two pupils may be closed within weeks.
There are currently a head teacher, a deputy, a part-time teacher, teaching assistant, caretaker/cook and cleaner at Ysgol y Glyn in Lower Brynamman.
Neath Port Talbot council had planned to shut the school last summer, and talks are now under way to close it permanently at the October half-term.
Both pupils are from one family who plan to leave the area and who did not want to move them to new schools twice.
The council said it had been told to keep it open until Christmas by the Welsh Government.
The Welsh Government said it was open to Neath Port Talbot to ask to close it now, but no such request had been made.
There were more 30 pupils at the school last term but all but one family moved their children to alternative schools after a campaign to keep it open failed in June.
Council education director Karl Napieralla said: "Our original proposals regarding Ysgol y Glyn advocated closure on educational and economic grounds at the end of the summer term.
"However, when the Welsh Government endorsed the decision they decided to keep the school open until the end of the calendar year.
Substantial change
"Discussions are taking place with the school, family concerned and the Welsh Government about bringing the closure forward to half-term."
The Welsh Government said when issuing decisions on school closures ministers usually gave at least a term's notice so parents had sufficient time to consider and visit alternative schools.
It said: "The minister's decision on Ysgol Y Glyn was issued on 9 June, within the normal target timescale of six months, but in order to give parents a full term's notice of closure, the implementation date was modified to 31 December.
"The local authority was consulted about this change and was content.
"If there is a substantial change of circumstances in the case of any proposal and the timing of its implementation, it is open to a local authority to ask the Welsh ministers to make a further modification.
"No such request has yet been made in respect of Ysgol Y Glyn but the local authority is monitoring the situation at the school."
Last summer when it emerged Capel Iwan School in Carmarthenshire remained open despite not having any pupils Welsh Education Minister Leighton Andrews had called the situation "bonkers".