River Neath 'orange' pollution spill investigated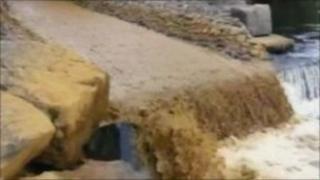 An investigation is under way into a pollution spill affecting a 10km (6.2 mile) stretch of the River Neath in south Wales.
Members of the public reported parts of the river had turned orange. Environment Agency Wales said some fish are in distress.
The pollution, which is entering the water at Garwed Brook, affects a stretch between Abergarwed and Neath town.
The source has yet to be established.
Officials are looking into the feasibility of rescuing the fish.
Gavin Bow from Environment Agency Wales said: "We are in the process of assessing the impact of the incident and whether it is feasible to rescue any fish in distress.
"Our priority is to minimise the impact of the pollution on the local environment and investigate how and why this has happened."
Anyone who sees pollution is asked to the agency's emergency line on 0800 807060.