Welsh mine tragedy: Inquests opened on Gleision deaths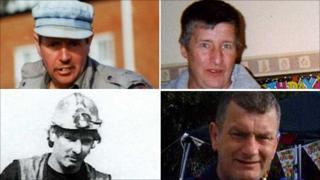 Inquests have opened on the four miners who became trapped in a flooded Swansea Valley mine.
Charles Breslin, Phillip Hill, Garry Jenkins and David Powell died at Gleision Colliery earlier this month.
Coroner Phillip Rogers spoke of the effects the men's deaths had had on their families and the local community.
The miners' families did not attend the hearing at the Guildhall in Swansea, which lasted just a few minutes and was adjourned until a later date.
The inquest heard the cause of the miners' deaths, which was released last week by South Wales Police, was exposure to flooded pit contents under pressure.
Investigations into the cause of the tragedy are continuing.
Meanwhile, the funerals of Mr Breslin, Mr Hill and Mr Jenkins will take place on different days this week.
A date for Mr Powell's funeral has yet to be set.
Post-mortem examinations found the four men died as a result of flooding in the pit in in Cilybebyll, near Pontardawe, on 15 September.
Three others managed to escaped as flood water engulfed the mine. A major rescue operation was launched but the bodies of the four dead men were recovered the following day.
Three other men escaped. Two were able to join the rescue attempt, but the other man was injured and remains in hospital.
South Wales Police said they were continuing to work with the Health and Safety Executive to investigate the incident and inquiries could last up to three months.
An appeal fund launched to support the families of the four miners who were killed has now raised more than £200,000, according to estimates by the office of Neath MP Peter Hain.
Working underground
Among those raising money last weekend was the Treorchy Male Choir, which has a long history connected to the mining community.
David Bebb, the choir chairman, said: "Today in Wales we don't expect to hear of colliery disasters.
"When the events took place at Gleision Colliery it reminded us very much of the dangers our own choristers as well as our forefathers, went through while working underground, which is why we wanted to contribute towards the fund."
Staff at the Royal Mail's 124 offices in Wales held a minute's silence on Tuesday morning.
There was also a collection in each office for the fund.