Clay's to run Garnant golf course in Carmarthenshire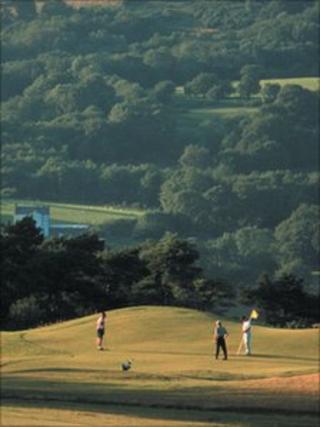 A private company is taking over a loss-making public golf course in Carmarthenshire.
Parc Garnant, built at a cost of just under £1m on a former opencast mine in the Amman Valley, is costing the county council about £150,000 a year.
Wrexham-based Clay's Golf has signed a 25-year-lease to take over the running of the 18-hole course and clubhouse.
It said it would remain open and affordable to all golfers and it was planning substantial new investment.
This includes developing the clubhouse, a new five-hole pitch and putt course for juniors and beginners and a covered driving range.
Carmarthenshire council said the deal secured the future of Parc Garnant, which was named best new course of the year in 2004 by the Golf Union of Wales.
The council will pay £80,000 a year in subsidies for the next two years and will be entitled to a share of the income from year six of the deal.
The authority has been reviewing all its leisure services as it looks to save money.
'Enhancing'
The 120-acre course has private members but is also open to the public on a pay-per-play basis.
Clay's Golf managing director Steve Williams said members of the public would continue to be able to play the course for under £10 a round.
In a statement he added: "We intend in the near future putting in planning for an additional five-hole par three pitch and putt to help develop schools and academy golf and a covered driving range that will be instrumental in giving everyone an opportunity to sample the sport.
"We have already been recognised by the Golf Union of Wales as a centre of excellence in Wrexham and will bring this commitment to enhancing and developing playing and practice facilities at Garnant."
He said plans for the clubhouse included developing the restaurant and lounge and marketing it as a venue for functions and weddings.
Mr Williams said it would create 10 jobs.
Council deputy leader and local councillor Kevin Madge said: "It was so important for us after all the good work that has gone on at Garnant to have new caretakers who could bring expertise and take Garnant on to the next level.
"I am sure it will be a great success and will help promote to the wider community in the years to come."