Mullany Antigua trial: Honeymoon murder sentence delay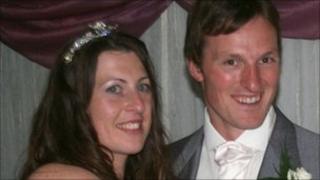 The convicted killers of a Welsh couple shot on honeymoon in Antigua may not be sentenced for weeks, it has emerged.
Ben and Catherine Mullany, both 31 and from Pontardawe, Swansea Valley, were shot at their resort on the Caribbean island on 27 July, 2008.
Kaniel Martin, 23, and Avie Howell, 20, were convicted of their murder in July and could face the death penalty.
But they cannot be sentenced until a psychiatric report has been finished.
The Mullanys were shot in their resort cottage on Antigua two weeks after they married.
They were buried in the grounds of St John Evangelist Church, Cilybebyll, near Pontardawe - the church where they had married two weeks earlier.
It was expected Martin and Howell, who also shot and killed local shopkeeper Woneta Anderson in almost identical circumstances, would be sentenced on Monday.
Tougher legislation
But the court in Antigua heard this will not take place until the report is completed.
Because the Caribbean island has only one qualified psychiatrist, this process could take weeks.
At the end of the pair's trial in July prosecutors said they would "reserve judgment" on whether they would seek the death penalty.
In the aftermath, Prime Minister Baldwin Spencer said the murders threatened Antigua's "very way of life" and said his government would introduce tougher legislation for anyone who uses a gun or knife in a crime which results in death or serious injury.
However, the death sentence has not been carried out on the island since the 1990s.
Following an intervention by the Privy Council in London in 2000, all death sentences in Antigua must be carried out within five years of conviction.
But the appeals process always takes longer than that period.