River Neath 'orange' cause identified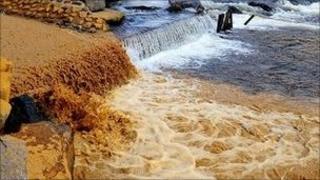 Officials have identified the source of pollution which has turned a stretch of the River Neath orange.
Environment Agency Wales says the discolouration is due to mine water entering the river from nearby workings.
The agency is working with the Coal Authority to trace the source.
The pollution, which is entering the water at Garwed Brook, affected a stretch between Abergarwed and Neath town.
Members of the public have been thanked for reporting the issue, which was first spotted on Friday and has led to the deaths of a small number of bullhead fish.
Environment Agency Wales said the mine water could have originated from a number of sources as the South Wales Coalfield has a "vast network of historic and current mine workings" nearby.
'Disturb'
The agency is keen to establish the source to prevent a similar pollution incident happening again.
Spokesman Gavin Bown, said on Tuesday: "The situation today has improved, and the pollution has largely dispersed.
"However, the next period of heavy rainfall may disturb some of the residual material in the river, but we don't expect this to cause further damage to the river or the local wildlife.
"We will continue to monitor the impact of the incident on fish and water quality, but the impact does not appear to be as significant as feared on Friday.
"We would again like to thank those who initially reported the incident to us."
The investigation continues.