Welsh mine deaths: Funeral tribute for Charles Breslin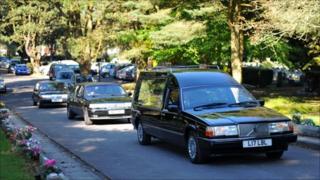 The funeral of one of the four miners who died when a pit flooded in Swansea Valley has taken place.
More than 200 mourners paid their respects to lifelong miner Charlie Breslin, 62, who was described as "the last of his breed."
He died at Gleision Colliery earlier this month along with colleagues Phillip Hill, Garry Jenkins and David Powell.
His funeral at Swansea Crematorium on Wednesday was the first to be held.
The inquest into the deaths had been opened and adjourned the day before.
The Tom Jones song Working Man was played to the service, featuring the lyrics: "I will never again go down into the ground."
The families of the three other miners and the rescue teams were among the mourners at the service.
Minister Tim Hewitt told the mourners: "We have faith in our God to watch over us - even in the depth of the earth he watches over us.
"Charles was a husband, a father and a brother, a hard-working man, with many interests."
Mr Breslin and his wife Mavis had recently celebrated their 40th wedding anniversary and the couple had a daughter Cheryl Ann, 39.
Friend and former miner Wayne Thomas said: "Charlie worked underground all his life.
"He was 62 but he was as strong as an ox and as brave as a lion. He was the last of his breed.
"He would shovel 20 tons of coal a day, no problem. He was a short, squat man but you've never seen power and strength like it."
His niece Julie Isaac said: "The service was a fitting tribute to Charlie and his life.
"Everything that was said was true about him - he was a hard-working man, a loving and caring man and a man who would do anything for anyone.
"That has been returned by the absolutely wonderful support we've had from the community."
Mr Breslin has been described by his family as a "hard working family man and a good father to his daughter".
He was vice-chairman of the Ystalyfera Royal British Legion and played bowls for the Ystalyfera bowling club and recently at Cwmllynfell where he had moved, having just completed building his "dream home".
The miners' families did not attend the opening of the inquests on Tuesday at the Guildhall in Swansea.
The hearing lasted a few minutes and was adjourned until a later date.
It heard that the cause of the miners' deaths was exposure to flooded pit contents under pressure.