Twilight's Kristen Stewart films at beach in west Wales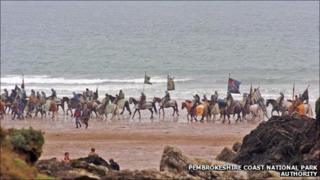 An adventure film starring Twilight actress Kristen Stewart and Oscar winner Charlize Theron has been shooting in Pembrokeshire.
A crew of hundreds has been at Marloes Sands near Milford Haven for the last week making Snow White and the Huntsman.
Up to 80 horse riders in costume have been charging up and down the beach.
Stewart, who plays Snow White, and Thor actor Chris Hemsworth have been spotted on the set.
Filming at the location is due to end on Friday.
The makers had to get permission from the Pembrokeshire Coast National Park Authority to film at Marloes.
Tent village
Senior ranger Phil Lees said it had brought many visitors to the area.
"Local people have taken a real interest in the filming, particularly young people, who perhaps would not normally spend time in Marloes.
"Watching 80 knights in their colourful costumes galloping down the sands has been an amazing sight and really captures your imagination."
He said a tent village had been set up to accommodate the film crew, cast and animals.
"The local facilities have coped well and things have run smoothly," he added.
"It's a deceptively large beach and all the action is taking place on the south end.
Fairy tale
"I was down at the north end of the sands checking a cliff area and it was very peaceful and a bit surreal looking back towards swarms of people and equipment."
The film, which also stars British actors Ray Winstone, Bob Hoskins, Ian McShane and Nick Frost, is described as a twist to the fairy tale.
The Huntsman ordered to take Snow White into the woods to be killed winds up becoming her protector in a quest to vanquish the Evil Queen. It is due to be released next year.
Stewart is best known for her role as Bella Swan in the Twilight saga but has starred in other Hollywood blockbusters including Jumper.
Theron, who has not been spotted at the location, won an Oscar for playing serial killer Aileen Wuornos in the film Monster.
It is not the fist time Hollywood has used Pembrokeshire's beaches for locations.
Russell Crowe and a 1,000-strong location crew spent five weeks filming Robin Hood in Pembrokeshire in 2009.
Scenes from Harry Potter and the Deathly Hallows, the two films of the final book, were shot at Freshwater West.
The Wales Screen Commission said those two films had been worth millions to the local economy.