Wilson the puppy raises Mumbles RNLI lifeboat alert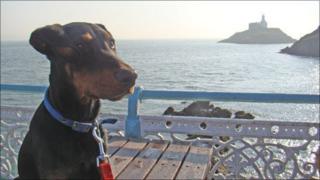 A swimmer caught in a rip tide has been rescued by a lifeboat after he was spotted by a crew member's puppy.
Richard Absalom was walking his new Doberman called Wilson on the beach near the Mumbles lighthouse near Swansea when the dog ran to the sea and started barking.
A swimmer was signalling for help after becoming caught in a current.
Mr Absalom and two colleagues launched the inshore lifeboat from the nearby station and rescued the man.
He said he doubted he would have noticed the swimmer who was in distress in the sea on Sunday morning had it not been for Wilson.
Water's edge
"The beach was quite busy and I was not really paying much attention to what was going on," he said.
"Wilson does not like the sea but he ran to the water's edge.
"He never normally goes in the sea but his paws were in the water and he was fixed on the swimmer barking.
"It's not like him as he does not normally bark."
He said the swimmer had been caught up in a strong current between the beach and an island near the lighthouse in Swansea.
"When the tide starts going out you get a massive rip. The whole of the bay is trying to empty through a very narrow channel.
"He was in quite a choppy part of water. I noticed he was waving his arms. He could not shout because he was swallowing water."
Mr Absalom, 31, went to straight to the lifeboat station where he has been a volunteer for five years.
"Sunday morning is normally training day so there were people there," he said.
"We launched the boat and by the time we got to him he was exhausted, clinging on to a rocky outcrop on the island.
"We got him on board and took him back to the beach."