Welsh mines rescue: Curry night fundraiser for families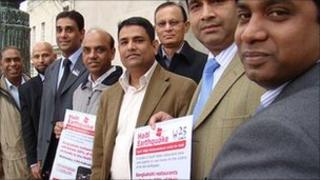 About 40 curry restaurants and takeaways across south west Wales are to hold a fundraising night for the Swansea Valley Miners Appeal Fund.
Half the proceeds from the Wednesday 12 October event will go to the fund, which organisers believe will eventually raise over £300,000 overall.
In February 2010 the restaurants and takeaways collected £35,000 for the Haiti earthquake appeal.
"It's something we need to do," said organiser Ali Ahmed.
Curry houses in Swansea, Llanelli, Neath, Port Talbot and Ammanford have all pledged to take part.
Four miners were killed in the accident on 15 September at the Gleision drift mine near Pontardawe.
Phillip Hill, 44, Garry Jenkins, 39, David Powell, 50, and Charles Breslin, 62, died after they became trapped in the flooded pit. Three men escaped.
The appeal's patrons include Prince Charles, the Archbishop of Wales Dr Barry Morgan and Neath MP Peter Hain.
Mr Ahmed, from Cardiff, is helping to organise the charity evening which has been arranged through the Bangladeshi and Muslim communities.
"I'm very proud to be part of this," said Mr Ahmed, whose family are involved in the restaurant trade in Cardiff. "It happened on our local doorstep.
"We've raised money after international disasters before but it's so important when it's in our community", added Mr Ahmed.
"We want a good turn out from the public. If someone comes in, spends £10 on a nice meal, they'll know that £5 will go to the miners fund."
Posters
Mr Ahmed said they hoped to raise between £5,000 and £10,000, and any money left over would cover basic costs.
It is hoped collections would also be taken at mosques in Cardiff, Newport and Swansea, he added.
Abdul Latif, who owns a number of restaurants in Swansea and Neath, said posters would be placed in the restaurants' windows to advertise the evening.
"We've come together before to raise money for Haiti and the floods in Pakistan," said Mr Latif.
"We feel it's our moral obligation to do something about this."
"The people I've spoken to agree how important it is. Let's see what happens," added Mr Latif.