Twenty horses close coastal road at Llanelli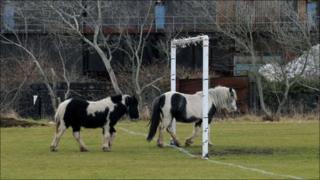 A section of a coast road in Llanelli has been shut because of 20 stray horses roaming there.
Carmarthenshire officials have met with police to discuss moving the animals which have been causing problems since the weekend.
Part of the B4304 between Lower Trostre Road and North Dock has been closed.
The road was closed for several days last winter due to stray horses but a council spokesman said there had not been any closures since February.
It appeared the horses had been released on to land near Machynys Golf Club at the weekend, he said.
Despite efforts to corral the animals on to a site earmarked for housing they had escaped and were wandering on to the road again.
The council said the road had been closed "on and off" since the weekend.
The council's head of public protection Philip Davies said: "We are taking robust measures to deal with 20 horses that have been dumped or are straying on roads and council land between Loughor and Machynys.
"We are also giving advice to local landowners on how best to protect vacant areas of grazing land against trespass in and around Loughor and Machynys.
"Police and Carmarthenshire council officers are meeting with other agencies to identify the horses ownership.
"They will seek to take the necessary civil or criminal action to dispose of the horses causing a nuisance, danger on roads, public footpaths and cycle tracks and compensation for damage to private and public land."