Slow worms moved for Burry Port playground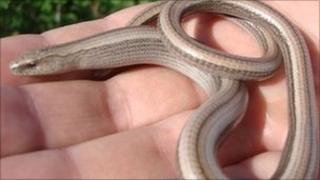 A colony of slow worms that has delayed the building of a new playground at a Carmarthenshire school has been moved.
The £56,000 park was due to be built at Parc y Tywyn school in Burry Port during the summer holidays.
But contractors found the lizards were living at the site and because they are protected species they had to be moved to suitable land nearby.
Contractors are now due to start work on the site on Friday.
Planning rules meant there had to be five consecutive days with no evidence of slow worms on the land.
Carmarthenshire council, which is funding the play area, said it had hoped it would be ready for when pupils returned after their summer holidays.
During the last three months ecologists have been moving the worms off the land.
Some were moved by hand while the vegetation at the site was gradually cut back by hand to encourage others to make their own way off.
A barrier was also placed around the land to stop any more moving on.
Slow worms have protected status in the UK and it is illegal to intentionally kill or injure them.
The council's executive board member for education Gwynne Wooldridge said: "We are glad that the slow worms have now moved on into their new home in time for their winter hibernation.
"Work can now begin on the playing area which will provide an excellent facility for the school."