Freshwater East boat 'tax' rethink plea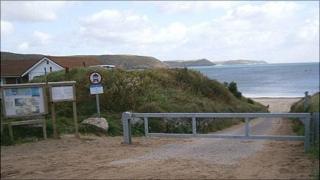 Fishermen and boat owners are urging a rethink over plans to charge for access to a slipway at a Pembrokeshire beach.
The county's national park authority intends charging people to take their vehicles onto Freshwater East.
It has been described as a "tax on leisure and fishing" by some boat owners who launch from the sands.
The park authority said the £6 daily charge was needed to pay for a warden to help manage the slipway and improve safety for all beach users.
It said weekly and annual rates would cut the cost for frequent users.
About 70 boats use the slipway each day at the height of the summer.
A barrier has now been installed and it is intended to start locking it from January and charging for access.
That has been opposed by the The Freshwater East Boatmen & Fishermen Association.
Spokesman Huw Baker said they had been using the slipway free of charge since it was built over 20 years ago.
The car parking charge was increased to £5 a day this summer, he said.
"Now they've put this gate there and did not really consult anyone in great detail.
"I thought the whole point of the national park was to attract tourists to the area and not scare people away and they should have some thought for the locals that also use it as well.
Safety measure
"It's a tax on people who enjoy the beach and the waterway, people who have been using the slipway incident-free and hassle-free since it was built."
He said the association feared the charges were the "thin end of the wedge" and would soon rise.
But the Pembrokeshire Coast National Park Authority said there was support for the change.
A spokesperson said: "Freshwater East can be extremely busy and the slipway is long and narrow with very poor visibility.
"At the request of the local community we introduced a warden five years ago to manage slipway use during the main summer season.
"We have since introduced a system of buoys to provide zoned areas in the bay as a safety measure, also requested by local people, along with a lockable barrier on the slipway and improved on-site information."
The authority will not make a profit from the charge but it was needed to offset the cost of improving safety, the spokesperson said.
"There is no other supervised slipway in the south of the county which does not incur a charge, and our charges will now be comparable," he added.
"We have received overwhelming support from the community for the approach we have taken.
"Towards the end of next year we will review the arrangements and consult with local people as we have done every season for the past ten years."