Skokholm island's lighthouse appeal raises £100,000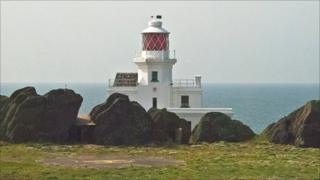 A wildlife trust has raised more than £100,000 just six weeks after launching an appeal to buy a lighthouse, three miles off Pembrokeshire.
The Wildlife Trust of South and West Wales needs to find £250,000 to purchase the building and cliff face on Skokholm island.
The trust said it was "bowled over" by the response to its appeal.
The island is one of the UK's most spectacular havens for sea birds, and the trust already owns most of it.
Plans include turning the lighthouse, built in 1916, into visitor accommodation for people to see up close the colonies of Manx shearwater and storm petrels.
It would continue operating despite the sell-off.
Skokholm was bought by the trust in 2006 after it raised £650,000. The mile-long island was the first bird observatory in Wales.
"In excess of £100,000 has been received through the appeal so far," said a spokeswoman.
"It is in part thanks to some wonderful local support and the support of the trust's members."
The trust wants to purchase the land around the lighthouse as this has one of the densest populations of Manx shearwaters in the world, but the land is fragile near the birds' nesting burrows.
Island warden Jerry Gillham said: "We would worry about anyone else buying the lighthouse and land in case damage was done to the incredibly delicate nesting burrows.
"Worse someone could accidentally bring rats on to the island which would do untold damage to the precious ground nesting birds which thrive across the island, including the wonderful puffins, storm petrels and Manx shearwaters."
Skokholm, with its nearby sister island, Skomer, is thought to the breeding home of roughly 50% of the world population of the species.
The trust has until the end of the year to raise the money to head off the possibility of the lighthouse being put on to the open market.