Prisoner transfer procedure change after Swansea death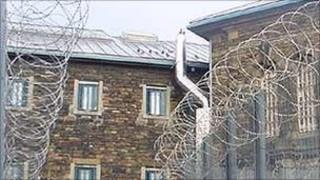 A Swansea Prison death has contributed to changes in UK procedure on prisoner transfer, says the Independent Police Complaints Commission (IPCC).
Peter Murphy, 21, had tried to take his life three days earlier in police custody, but that information was not passed to prison guards.
An inquest jury returned an open verdict and criticised police and the prison service.
South Wales Police said lessons had been learned after the "tragic loss".
Mr Murphy was arrested on 8 May 2009 and held at Swansea Central Police Station.
He had admitted taking heroin that morning, and was taken to hospital and treated before being returned to police custody.
Mr Murphy was put in a cell which had CCTV coverage and the following day was seen and stopped from attempting to strangle himself using his bedding.
He was taken from his police cell to Swansea Magistrates Court on 11 May.
The IPCC investigation found a form was completed and the drugs and suicide boxes ticked but no further information was included to warn about his recent attempt to strangle himself.
Custody staff also failed to inform security guards escorting him about the medication he had been taking to help with heroin withdrawal, so the information was also not passed to prison officers in Swansea, it found.
Magistrates remanded Mr Murphy to Swansea Prison where he was placed in a single cell and not put on suicide watch.
He was found dead in the early hours of 12 May.
IPCC commissioner for Wales Tom Davies said: "This young man was owed a duty of care when he was transferred out of police custody.
"The information that Mr Murphy had already tried to strangle himself while in police custody was not passed onto the prison service other than ticking a box about suicide and self-harm.
"While we will never know for certain whether the absence of a written warning about a risk of suicide would have prevented his eventual death in prison, it also means that we do not know whether it would have helped."
He said the custody sergeant who was ultimately responsible had been given "management advice".
"Learning lessons from tragedies such as this is important and changes have been made to the national form covering the transfer process for prisoners being moved from police custody to prison."
South Wales Police Chief Supt Tim Jones said: "South Wales Police wish to express our sincere condolences to the family of Mr Murphy for their tragic loss and in particular at this difficult time.
"They and the public can be reassured that the lessons learned from his sad death have contributed to national changes being made to the prisoner escort record form.
"These changes have been disseminated to all of the necessary custody-based staff within South Wales Police."