Councillors told to 'clean up act' over Swansea centre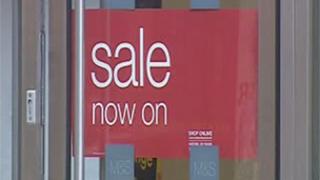 The man charged with helping revive the centre of Swansea has told councillors to "clean up their acts" if they want to bring more people into town.
Councillor Richard Lewis works as a direct link between traders and Swansea council leader Chris Holley.
The former lord mayor believes an assault on city centre car parks is the way forward.
Residents in Swansea are also being asked their views on how to improve the city centre and parking.
Mr Lewis' comments come after it was revealed a cut-price offer for a multi-storey car park in High Street attracted little interest.
In July, the cost of a four-hour stay after 1000 BST was slashed from £4.50 to £1.
"The irony is that it has no extra use," he said. "The problem is with that one, there's a problem with security and two, how do people know about the offer?
"In the next week or two, I want to halve our prices in all of our car parks and in the two weeks before Christmas, all our car parks should be free.
'Outside the box'
"If we had put posters up at all of our car parks saying half price, you would probably get double or treble the amount of users.
"My idea is totally outside the box. We've got to look at how we can attract people.
"We've increased our traffic wardens by 700%. That's had a huge affect on driving people out of town.
"The traders have all said they want cheaper parking and better parking.
"We've got to be far more business-minded. We've got to clean our acts up."
Mr Lewis also wants to make the city centre more attractive and has suggested placing a roof over Oxford Street between BHS and Whitewalls while having a Sunday market on High Street.
The council's environment and communities overview and scrutiny board is carrying out a review of how effective the approach is to improving the city centre.
As part of the review the board wants people to say if they prefer to shop in out of town complexes and why that it is.
Shoppers are also being asked on how they think car parking can be improved in the city centre.
It comes after South Wales Chamber of Commerce warned that Swansea and Newport have been hit by the success of the £675m St David's shopping centre revamp in Cardiff city centre.
"You see coaches of people coming to Cardiff to shop from west Wales, whereas before they might have gone to Swansea," said director Graham Morgan.