Probe in to how bus hit shop in Swansea street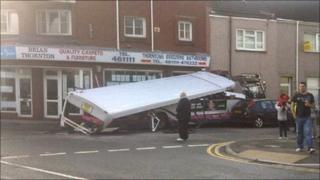 A bus company says it is working with investigators to establish exactly how one of its vehicles crashed into a shop.
First Bus said the bus lost its roof when it crashed into a bathroom store on Oxford Street in Swansea, after being hit by another vehicle.
The driver and two passengers on the 2A service suffered minor injuries in the incident at 10:13 BST on Sunday.
First Bus said: "We wish them all a speedy recovery."
Police closed the junction with Beach Street in the Sandfields area of the city while the rescue operation was under way.
The bus had been en route from the city centre to Oystermouth when it was in a collision involving two cars and a skip lorry.
In a statement, First UK Bus said the 2A bus was proceeding normally when it was hit by another vehicle, which emerged from a side street.
'Rare'
Two of the four passengers on board were taken to Morrison hospital with minor injuries. The bus driver was also treated in hospital for minor injuries and shock.
"Our team attended the scene and are working with the authorities to determine exactly what happened," said a spokesman.
"At this time our thoughts are with those who were on the bus at the time of the incident.
"We would like to take this opportunity to reassure customers that thankfully such incidents are very rare, and that the bus remains one of the safest forms of transport in the UK."