Conygar and Stena unveil plans for Fishguard harbour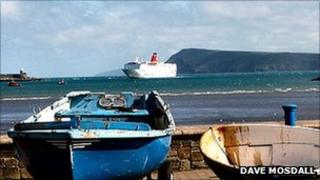 Fresh plans have been drawn up for a 450-berth marina and major expansion of the ferry port in Fishguard.
An investment firm working with ferry operator Stena Line is also seeking consent for a marina, housing and a new promenade.
The partners are also behind plans for the waterfront at Holyhead on Anglesey.
Pembrokeshire council leader John Davies said Fishguard Harbour was central to the economy of the entire north of the county.
Planning permission for a marina at Fishguard was granted to the Anglesey Boat Company in 2003.
It was acquired by the The Conygar Investment Company in 2008 which is behind the latest plans.
Conygar says if granted the new application will supersede the existing planning consent and provide a development of greater scale and opportunity.
The firm claims it could be worth up to £100m providing a major boost to the area's economy.
"This exciting proposal will transform the area and bring significant benefits to the town and region as a whole," said Conygar chief executive Robert Ware.
"Clearly we expect a complex scheme of this nature to receive considerable scrutiny and the forthcoming planning process will undoubtedly result in a comprehensive assessment of the proposals.
"But we are hopeful the scheme will receive the backing we believe it deserves."
Ownership of the sea bed and foreshore was disputed for several years but finally settled in favour of the The Crown Estate in 2008.
Future jobs
Much of the surrounding harbour area is owned by Pembrokeshire council.
Leader John Davies said: "The operation of Fishguard Harbour is central to the economy of the whole of the north of Pembrokeshire.
"There is no doubt that development is needed in order to secure the future of the ferry port and to provide and sustain jobs for the area.
"It is heartening that in these difficult financial times, major companies of this sort have sufficient confidence in Pembrokeshire to come forward with this sort of investment."