Plaque honour for Llanelli Battle of Britain pilot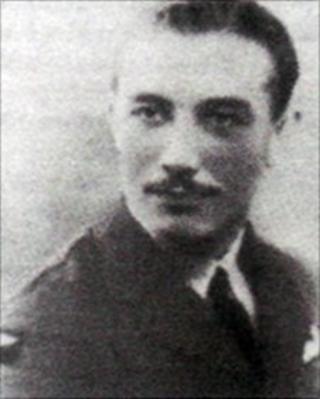 A college in Carmarthenshire is to honour an RAF pilot who was killed in the Battle of Britain.
Historians say Reg Isaac from Llanelli selflessly flew his Spitfire into a German ambush on 5 August,1940 to save his comrades, knowing he would die.
A plaque will be unveiled at Coleg Sir Gar, the old Llanelli Grammar School, where he went from 1927 to 1934.
Former Conservative leader Lord Howard, who also went to the school, will perform the unveiling.
Friday's dedication is part of a programme by the Battle of Britain Historical Society to place a plaque in the schools of each of about 2,900 pilots who fought on the British side.
Wartime Prime Minister Winston Churchill praised them as 'The Few' who saved Britain from German invasion.
Selfless action
On 5 August 1940, at the height of the RAF's efforts to fend off the Nazis, Sgt Pilot Lewis Reginald Isaac was flying at the rear of his fighter squadron.
He turned and flew his Spitfire into the midst of a Messerschmitt ambush, allowing his five comrades to return to base safely.
Clive Millman, Welsh co-ordinator for the Battle of Britain Historical Society, said it was important that the pilots who saved Britain from the Nazis should be remembered.
"As the Battle of Britain fades in the memory, and the number of those who can recall for themselves the bravery of 'The Few' inevitably dwindles, it's becoming increasingly important to tell young people about the lives of people like this," he said.
"There can be nowhere more fitting to honour them than in their own schools," he added.
"It's a reminder that these men were once ordinary children, forged into heroes by extraordinary circumstances.
"Heavens forbid that there's ever a time in the future when we'll again be forced to ask our young people to be so heroic on mass; but the feats of these men are there to prove what all of us are capable of if we are pushed - or push ourselves - hard enough."
Banking career
Reg Isaac grew up in Llanelli and, on leaving school, joined Lloyds Bank.
As his career began to blossom, it took him to the City of London in the late 1930s.
Yet his life was to take an unexpected turn when he signed up for the RAF Volunteer Reserve on the outbreak of war, and was given his first Spitfire as part of 64 Squadron at Kenley, just nine months later.
Mandy Wyrwoll, marketing manager at Coleg Sir Gar, said it was the very ordinariness of Reg's life which made it easier for pupils today to appreciate what he must have gone through.
"It will be a service which is particularly poignant for the students studying on our BTEC First in Uniformed Public Services; some of whom will be giving readings of poetry," she said.
"The course is tailored towards young people who're aiming towards a career in the armed forces and emergency services, and I'm sure that over the last few weeks many of them will have stopped and thought for a moment about the courage which was shown by servicemen like Sgt Pilot Reginald Isaac, who weren't much older than them when they were called up."