Swansea fireworks moved for Ospreys Scarlets rugby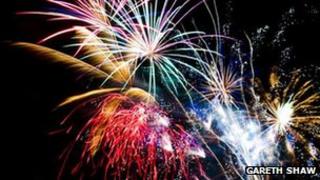 Swansea's annual Guy Fawkes firework display is being held a day early for the first time to stop it clashing with the Ospreys and Scarlets rugby match.
Up to 10,000 people usually pack into the ground at St Helens on 5 November.
With a crowd of 20,000 expected at the west Wales rugby derby at the Liberty Stadium it will be held on 4 November.
Swansea council, which stages the display, said although the events were happening on either side of the city there were traffic congestion concerns.
It is the first time the date of the fireworks display has been brought forward although bad weather has seen it delayed in the past.
The council's manager for culture, recreation and tourism Frances Jenkins said: "For many years the annual fireworks display has been held within St Helen's Rugby Ground on 5 November, regardless of what day of the week the fifth happened to fall on.
Avoid any conflict
"However, this year the decision has been made to bring the fireworks display forward by a day in order to avoid any conflict with the Ospreys versus Scarlets rugby match taking place at the Liberty Stadium."
She said the rugby was scheduled for an evening kick-off in front of a capacity crowd.
"Both events would have occurred almost simultaneously with both attracting large numbers of people, many of whom would likely be travelling by car.
"Holding the annual fireworks display at the same time as the popular west Wales derby match would have added to traffic congestion and could have led to problems for event goers and other road users."
Gates open on 4 November at 17:30 BST with entertainment starting at 18:00 BST and the fireworks display at 19:30 BST.