Bid tabled for food waste plant near Pontardawe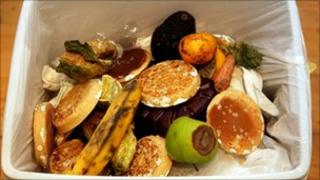 A planning application has been lodged for a plant in the Swansea Valley to turn food waste from over 350,000 homes into electricity and fertiliser.
It would use micro-organisms to break down food waste to produce fertiliser and bio-gas to generate enough electricity for 5,000 homes.
It would be sited at Pwllfawatkin near the old Abernant Colliery.
The company behind it is staging two public exhibitions to answer questions from people living nearby.
The Waste Recycling Group (WRG) said it could cater for food waste from Swansea, Carmarthenshire, Neath Port Talbot, Pembrokeshire and Bridgend councils.
The application will be dealt with by Neath Port Talbot.
Mike Bullard of WRG said: "The plant will be able to process around 52,000 tonnes of food waste a year which will come from the regular household food waste collections from the five county councils involved in the proposed scheme.
"In addition to generating electricity a nutrient rich fertiliser will also be produced which can be used to cultivate agricultural land."
WRG is one of two firms competing to secure a contract to deal with the region's food waste.
The exhibitions are taking place at Gwaun Cae Gurwen Community Hall on Monday 31 October between 10:30 GMT and 16:00 GMT and at Pontardawe Arts Centre on Tuesday 1 November between 11:00 GMT and 20:00 GMT.