Swansea Cork ferry sailings cancelled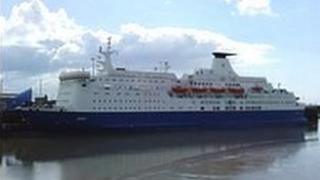 Sailings of the Swansea to Cork ferry have been cancelled with immediate affect.
Operator Fastnet Line is attempting to restructure its business with a view to resuming sailings in April 2012.
It says it has been hit by higher than expected fuel prices since it launched in early 2010.
All passengers who are booked on future sailings will be contacted in the coming days with full refunds being issued.
The company has been placed into interim examinership by a court in Dublin - a recovery process allowed for within Irish business law.
Fastnet said it apologised to customers for any inconvenience the withdrawal of the service may cause.
It said under its new business plan it only expected to operate seasonal sailings between April and September.
It said other changes included reducing the number of passengers the ferry was licensed to carry from 1,504 to 950.
Long-term future
The company said: "The service has been severely hampered by the continuing increase to world oil prices."
The company employs seven people in Cork and an average 53 contracted staff on board the ferry at any given time.
Fastnet Line reinstated the ferry service in March 2010 - four years after a previous operator withdrew from the route.
The company said in the past 18 months it had carried over 150,000 customers between south Wales and Cork.
It said it was "committed to the long-term future of the service" and to welcoming passengers back on board in April 2012.
In August, Stena Line announced plans to cut its fast ferry service between Holyhead and Dun Laoghaire to a seasonal service.
The company also blamed rising operational costs.