£13.5m to create 1,000 jobs park at Cross Hands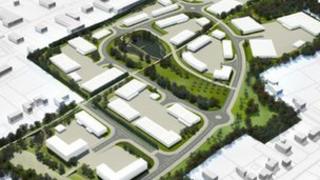 A new employment park is to be built in Carmarthenshire which could bring more than 1,000 jobs to the area.
The Welsh government has announced a plan to invest £13.5m in developing the business park at Cross Hands.
Community leaders have described the plans as great news and a significant boost for the county.
The money will pay for new roads and other infrastructure at the site called Cross Hands East, next to Cross Hands Business Park.
The area is also home to Cross Hands Food Park, a joint venture by the Welsh government and council to bring food companies to the area.
Negotiations
They plan to promote the additional site for businesses to "source and sell" within the local and regional area.
"Despite difficult economic times it is vital that we develop the sites to accommodate future business investment and expansion," said councillor Clive Scourfield, executive board member for regeneration.
"The earmarking of these funds for infrastructure works is great news and it will be a significant boost for the county."
Officials at Carmarthenshire council will manage the project, with the authority investing £4m.
The £13.5m will be spent on a new access road from the A48, along with a new internal road and bringing in electricity, gas, water, drainage, lighting as well as landscaping.
Carmarthenshire deputy chief executive Dave Gilbert said: "It is great news for the county and will provide serviced sites in the longer term for the county when hopefully the economy will be showing signs of improvement.
"Cross Hands is a strategic site for ourselves and Welsh government and the food park opposite has been a great success for the local economy."
Negotiations over the sale of some land still needs to be resolved.
Welsh government Regeneration Minister Huw Lewis said: "The development of this site will boost the region's economy by creating an accessible and high quality environment to ensure businesses succeed, attracting further investment and leading to more job opportunities."