Cables go underground at St David birthplace, St Non's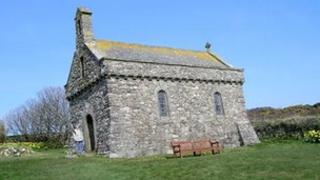 Overhead cables and phone lines leading to a Pembrokeshire beauty spot said to be the birthplace of St David are set to be buried underground.
A 500m stretch of poles and lines at St Non's, named after the Welsh patron saint's mother, will be removed early next year.
It is part of a project to restore "iconic sites" in Wales.
St Non's, near St Davids, is home to a ruined chapel, a more modern replacement, a holy well and a retreat.
The ruined chapel is said to be on the site where St David was born and is regarded as an important destination for cultural visitors and religious pilgrims to the area.
Work to improve the landscape follows a similar project to remove overhead cables and phone lines at Stumble Head, which is also in the Pembrokeshire Coast National Park.
It will be jointly funded by Western Power Distribution and BT Openreach.
A report to the national park authority said the area attracted a large number of visitors, and many found the landscape impacts of overhead lines unacceptable.
"The coastal views around the St Davids headland are considered to be of both national and international importance," it added.