Sisters Nicola Carvalho and Claire Goss get Swansea freedom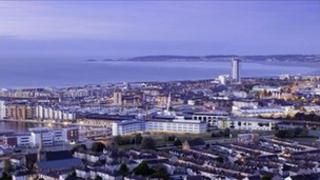 Two sisters have become the first women to receive the hereditary freedom of Swansea.
The title, which dates back to medieval times, was traditionally passed down through the male line.
Following a change in the law two years ago, women can now qualify, and English cities have admitted women freemen.
Nicola Carvalho and Claire Goss can trace their claim back to 1890 and their great-great grandfather.
He married into a family with the title.
Nicola was born and lives in Gloucester but said she was very proud of her family's connections to Swansea and was delighted to continue the tradition.
Historically, freemen were from the merchant class in medieval society. Individuals were, in effect, nominated to run different trades in the growing towns.
The title bestowed "burgess rights" on the holder, giving various privileges. These were ended by act of parliament in 1835 and since then, it has been a nominal honour.
Traditionally the freedom was passed down the male line. It has to be claimed every generation and lapses if left unclaimed.
It is thought there are about 30 families in Swansea who kept the tradition going.
When Ms Carvalho applied, Swansea council had to decide whether to abandon the system or admit women.