Plea as Paul Jones of Newcastle Emlyn missing for year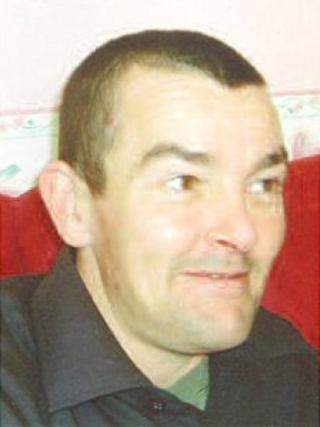 A new plea has been made to help find a missing man as the first anniversary of his disappearance approaches.
David Samuel Paul Jones, known as Paul, was last seen in the town centre in Newcastle Emlyn, Carmarthenshire, on 8 December 2010.
His disappearance sparked large searches in the area, but to date there has been no information to suggest what happened or where he might be now.
His family said his disappearance was having a devastating effect on them.
Jonathan Jones said: "My brother had a lot of problems before he disappeared, and he was hanging around with new people, which may have contributed to his disappearance.
"This has had a devastating impact on his family and friends and it's the not hearing anything which is difficult to handle. So if anyone knows anything, please get in touch."
He is described as white, about 6ft, with short dark hair.
He has various tattoos, including "RAVE" tattooed on his left hand and "ACID" on his right, a Celtic pattern on the top of his back and a dragon on his chest.
Sgt Simon Wright of Dyfed-Powys Police said: "We're hoping that this first anniversary might lead someone to come forward with information that can help us find him.
"His disappearance was out of character, and despite our exhaustive efforts we've not been able to find out what has happened to him.
"He may have left the area, someone may have seen him and not come forward to date or perhaps someone has information they just haven't thought is relevant but it could help us solve this mystery."
Anyone with information is asked to contact Newcastle Emlyn police station on the non-emergency telephone number 101.