Help point van service for Swansea Christmas revellers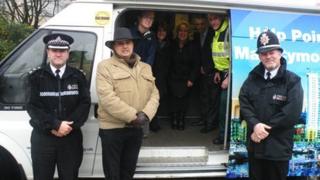 A help service for festive revellers will be tried out in Swansea over the Christmas season.
The "help point" van will be manned by police, nurses and paramedics.
Among its aims is to assist revellers worse for drink, who will be helped to sober up so they can travel home safely.
The help point will be found in Castle Square from 22:00 GMT on Wednesdays, Fridays and Saturdays until New Year's Day.
Jeff Davison of the Safer Swansea Partnership, which is running the trial, said: "The healthy city help point is being trialled over the busy festive period to provide extra support to visitors and other night-time staff.
"The help point is anticipated to provide a warm welcome to visitors and allow staff to give timely help to those who need it, where and when they need it most."
First aiders will treat minor injuries, and there will also be information about where to find the city's cash machines, taxi ranks, hotels and fast food restaurants.
The help point van has seating, a table and storage space, and bottled water will be available for visitors.