Mullany murders: Avie Howell could now face death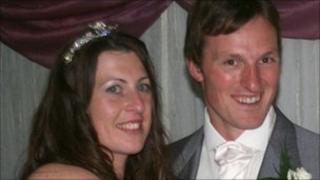 One of the killers of newlyweds shot on the last night of their honeymoon on Antigua will no longer be automatically exempt from the death penalty.
Ben and Catherine Mullany, both 31 and from Pontardawe, Swansea Valley, were shot in the head on 27 July, 2008.
Kaniel Martin and Avie Howell were convicted in July but now it has been found there was a mix-up over Howell's age and he was 18 at the time.
A sentencing date has yet to be fixed at the Caribbean island's High Court.
The Mullanys were shot in their resort cottage two weeks after they married.
An inquest, held in Swansea in November, heard that neighbouring holiday-makers at the Cocos Hotel heard screams and gunfire early in the morning.
The hearing was told that three spent cartridges were found on the floor of their chalet and there was damage to the bathroom door where it had been kicked in.
Catherine Mullany, a doctor working towards becoming a GP, died at the scene.
Her husband Ben, a student physiotherapist and former soldier and police officer, died a week later after he was flown back to Swansea.
Martin, 23, and Howell, 22, were convicted of their murders, and the killing a local shopkeeper in almost identical circumstances.
'Lenient sentence'
At the end of their two-month trial, prosecutors said they would reserve judgment on seeking the death penalty.
However, it was thought that Howell was 17 at the time of the murders, which would have resulted in him getting a more lenient sentence.
But the sentencing hearing was told his date of birth was not September 1990, as the trial previously heard, but September 1989, making him 18.
The evidence came to light after the Director of Public Prosecutions (DPP) had sought a copy of Howell's birth certificate.
Despite the revelation, both Martin and Howell's legal team urged Judge Richard Floyd to treat their clients leniently, insisting they were capable of reform.
Barristers Michael Archibald and Maureen Payne Hyman both claimed Martin and Howell had shown remorse for their crimes, despite refusing to testify at their trial.
'Huge burden'
They also stressed the victims in all three murders had been shot once and it was still unclear as to who pulled the trigger.
Mr Floyd reiterated his previous comments that he would need to consider "matters fully" and did not give a date as to when sentencing would finally proceed.
However, he pledged to bring an end to the case as "quickly as possible" - adding that recent delays had been a "huge burden" on both the convicted men and their victims' families.
Though still on the statute books, capital punishment is extremely rare in Antigua.
After an intervention by the Privy Council in London in 2000, all death sentences in Antigua must be carried out within five years of conviction.
But with the appeals process always taking longer than that period, it means a death sentence has not been carried out since the early 1990s.
Last week, Antiguan prosecutors said sentencing was a matter for the court's discretion - with its options including the death penalty as well as life imprisonment.