Singleton Hospital neo-natal unit reopens after E. coli baby deaths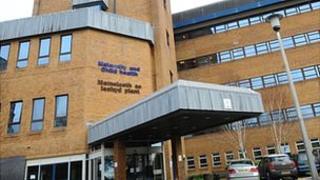 A neo-natal unit where two premature babies with E. coli died has re-opened after tests found there was no further cross infection.
One of the babies contracted the ESBL strain at the unit in Swansea's Singleton Hospital, but the second baby caught it elsewhere.
Tests also confirmed a mother with a different ESBL E. coli sub-type and a baby also picked up the bug elsewhere.
The neo-natal unit closed last month but the maternity unit remained open.
"One case only of cross infection has been proven," said Dr Bruce Ferguson, Medical Director, Abertawe Bro Morgannwg University Health Board.
'Precaution'
"Tragically this involved a very premature baby who later died.
"This case was linked to three other cases of ESBL E.coli of the same sub-type which were contracted outside hospital. Sadly, one of these cases was also a premature baby who died in the neonatal unit."
Dr Ferguson said the neo-natal unit has been restricted to older pre-term babies as a precaution while tests of patients, equipment and the environment in the maternity and neonatal unit took place.
He said none of the patient tests revealed any further cross infection and more than 120 swabs around the unit tested negative.
"Our investigations into the cross infection have not shown any evidence of how the ESBL E. coli was transmitted to the baby.
"We appreciate that this is frustrating and concerning for the individuals involved. However, in other similar instances of this kind elsewhere in the UK the cause of transmission was never identified."