XS community radio station in Port Talbot closes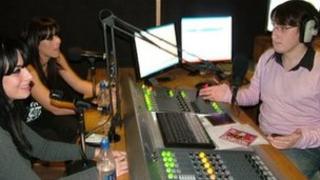 One of the first community radio stations to launch in Wales has stopped broadcasting after running out of cash.
Port Talbot-based XS, formerly known as Afan FM, has gone off air after nearly five years.
The station said grant aid had dried up, and a tax bill would swallow up nearly all its remaining budget.
Station director Ian Hickling said: "It simply isn't feasible to continue to run this sort of project on what amounts to charity."
The licence holder, Neath Port Talbot Broadcasting, will hold a board meeting on Friday to decide whether to go into voluntary liquidation and close the project.
Targeting youth
XS was one of nine full-time FM community stations broadcasting in Wales, having launched as Afan FM in April 2007 to serve young people in the Neath Port Talbot council area.
It was run by two full time staff and a team of 30 of 40 volunteers, broadcasting a range of youth-orientated programming on 97.4 in Neath and 107.9 FM in Port Talbot as well as the internet.
Its five-year licence was due to expire in April 2012.
Originally based in purpose-built premises at the Afan Lido, the station had to relocate following the fire in December 2009 which badly damaged the leisure centre, which is now being demolished.
Shortly before the station's rebranding in January 2011, manager Craig Williams told BBC Wales it cost up to £100,000 a year to run the operation.
Funding mostly came via grant aid from the Welsh government, Neath Port Talbot council and the Big Lottery Fund.
However, project worker Sam Vaughan said recent grant applications had proved unsuccessful, and they were also affected by an Ofcom regulation that community stations could raise no more than 50% of its funds through advertising.
The station ceased broadcasting on Tuesday following the receipt of a tax bill, with director Ian Hickling saying it could no longer afford to continue.
'No alternative'
"We received a very large unexpected demand from HM Revenue and Customs which almost totally absorbs our remaining funding and therefore leaves the directors no alternative but to close the operation," he said in a statement.
"We are resolved to think of this as the completion of a very successful project which has run its course."
Mr Hickling said: "It simply isn't feasible to continue to run this project on what amounts to charity - when it isn't permitted to fund itself from conventional commercial activity".
Mr Vaughan, who was a station volunteer for three years before being appointed a member of staff, said they had been heartened by messages of support since XS went off air.
He said it was likely XS as a project would close, but there was still support for a radio station serving Port Talbot.
"We've had lots of phone calls over the last couple of days from people asking what can be done," he said.
"They want to do it not to make money but because they're passionate about the station and passionate about serving young people."
Other community radio stations in Wales have suffered from funding crises in recent years, partly as a result of Ofcom regulations designed to safeguard the advertising base for small-scale commercial stations.
In April 2006, Pontypridd-based GTFM warned it was facing imminent closure after Objective One cash from Europe ran out, but alternative funding was found.
Meanwhile Radio Cardiff replaced live programmes with automated music in July 2008 after its funding ran out, returning to normal service in January 2009.