E. coli baby case link at Singleton Hospital ruled out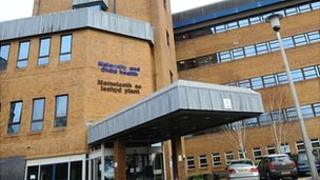 Health chiefs say there is no link between a baby suspected of contracting E. coli and an outbreak at Swansea's Singleton Hospital last month.
Two premature babies died at the neo-natal of which one contracted the ESBL strain in the unit, while the second picked up the bug elsewhere.
Access to the unit was restricted for tests but fully re-opened on Tuesday as no more cross-examination was found.
The baby who has the latest suspected case was born on Saturday.
"While the restrictions were in place we carried out routine tests of patients for ESBL E.coli as a precaution," said Dr Bruce Ferguson, medical director at Abertawe Bro Morgannwg University Health Board.
"These tests are continuing for a short while as an additional precaution. None of these tests have shown any evidence of further cross infection.
"ESBL E.coli is found naturally in a small proportion of the public, and in most cases does not cause any harm, and carriers do not have symptoms.
'Distinct strain'
"Because the bug is present this way, we expect that a small number of the precautionary tests we are carrying out will be positive.
"So if a patient tests positive for ESBL E.coli this does not mean this is automatically linked in any way to the cross infection incident.
"The ESBL E.coli in the cross infection incident was a distinct strain.
If we get a general ESBL E.coli positive result, we carry out a further test to see if it is the same as that distinct strain.
"None of the ESBL E. coli positive results resulting from these precautionary tests have turned out to be the same strain as the cross infection.
"In addition, none of these patients have displayed any symptoms."
Dr Ferguson said the neo-natal unit had been restricted to older pre-term babies as a precaution while tests of patients, equipment and the environment in the maternity and neonatal unit took place.
He said none of the patient tests revealed any further cross infection and more than 120 swabs around the unit tested negative.
During the outbreak, a mother and another baby tested positive for ESBL but it was found they picked up the bug elsewhere.